New home
Welcome to eMAKER's new online home. Having setup and run eMAKERshop for many years, the time has come to focus our efforts on our own products and new developments.
History
From our humble beginnings in a Milton Keynes garden shed five years ago, our mission hasn't changed since successfully launching the first 3D printer crowd funding campaign.
That mission is to offer people access to great technology at a reasonable price. At the time of our Indiegogo campaign, access to 3D printers was limited. The likes of Makerbot and Ultimaker were still getting going with their first generation products, and big names such as 3D systems and XYZ had not even entered the consumer 3D printing marketplace.
There were a limited number of RepRap designs published, but full kits were very hard to find. So the eMAKER Huxley was born to offer a complete 3D printer kit, for a reasonable price. The design was an evolution of the original Huxley design, which itself was based on the original Sells Mendel design with all it's bearings, but simplified by taking much inspiration from Josef Prusa's first Mendel iteration. The eMAKER Huxley was, and in some cases still is, a very capable little 3D printer, with a heated bed and our all metal hot end the print quality was still better than many printers on the market today.
Of course the consumer 3D printing market has grown up a lot in the last five years, and some big names have entered then left in that time, including RepRapPro and 3D Systems who no longer offer machines aimed at the home user. The early hype, proclaiming 3D printers would bring Star Trek like replication to the living room has thankfully died down, and the technology has found it's footing as a key prototyping and even small batch manufacturing tool.
Products
RepRap 3D printer kits will always have a place in the market, perhaps in the same way kit cars do despite the plethora of mass produced cars, as there are many benefits to building your own 3D printer. Such a market is likely to remain a minority as the mass produced injection moulded machines and accompanying software continue to improve.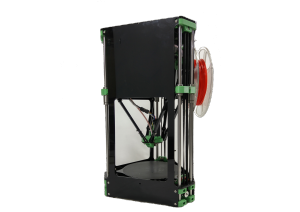 It is for the above reasons that eMAKER will continue to offer a 3D printing solution in the form of the excellent Fisher Delta, but on a smaller scale than we tried to achieve through RepRapPro. Although currently the main offering of this site, 3D printers will be just one of many tools and projects we hope to bring you as this site grows with content.
Newsletter
So if you'd like to get into 3D printing, we recommend starting with the Fisher Delta. If you already have a 3D printer, or are simply interested in what we plan to offer, please feel free to sign up to our mailing list so we can keep you up to date with our latest developments.
Please also feel free to leave your comments below, or email us at info@emaker.io